Translating…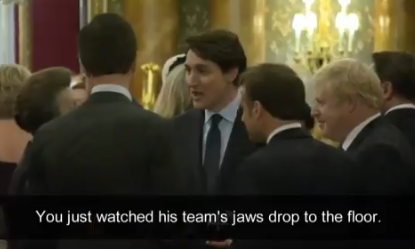 Oh boy.
Donald's not going to like this one at all.
In this video from a Buckingham Palace VIP reception earlier today, Canada's Prime Minister Justin Trudeau, Emmanuel Macron of France, and Boris Johnson of the Republic of Brexit appear to be discussing Donald Trump's wacky impromptu word salad speeches.
Trudeau, Macron, Johnson, and other VIPs are seen in the pool video sharing a few words among themselves at a Buckingham Palace event.
No one in this clip mentions Donald Trump by name, but do they need to?
No sight of Prince Andrew, but Trump and Melania are said to have met with Prince Charles earlier in the day. And of course, Trump denies ever having known Prince Andrew.
(Video: Host Pool)